Wellcome Collection
183 Euston Road, London, NW1 2BE, United Kingdom
|
02076112222
|
Website
Dying under your Eyes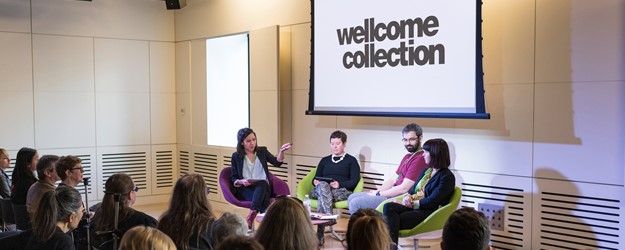 What you'll do
Come to a screening of 'Dying Under Your Eyes', a newly commissioned film by artist Oreet Ashery, whose work is currently on display in the Wellcome exhibition 'Misbehaving Bodies'.
This family portrait of end-of-life care includes footage from around the time of her father's death. Through her personal experience, Ashery explores themes such as ageing, dying and mourning.
After the screening, there will be responses to the film by curator and researcher Helena Reckitt and Professor Stephen Wilson.
The artist will then join in the discussion and you will have the opportunity to ask questions.
Location
We'll be in the Forum. To get there, take the lift or stairs up to level 1 and then follow the signs through the 'Being Human' gallery.
Speech-to-text
This event will have live speech-to-text transcription for visitors who are deaf, deafened and hard of hearing. If you would like to come along, email us at access@wellcomecollection.org or call 020 7611 2222.
[Image: Photograph of a discussion event in the Forum at Wellcome Collection. A panel of four speakers are sitting in front of an audience with a large screen behind them.]
https://wellcomecollection.org/events/XXEE9BEAACgAHQRw
Back to Events