Frozen Light Theatre: Original, adventurous and multi-sensory theatre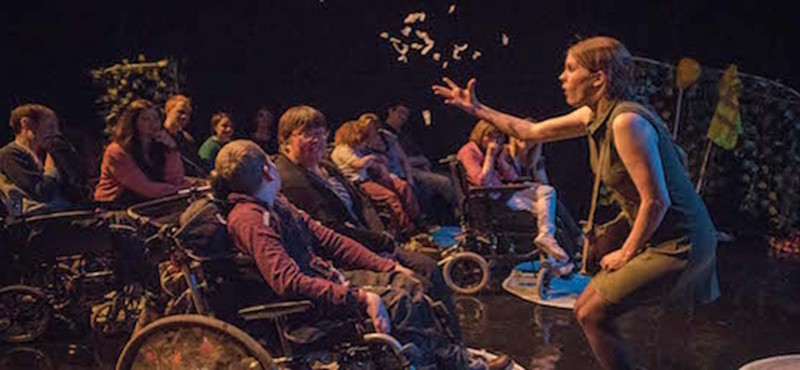 Do you like your theatre with a bit of mischief? You can explore all of the elements behind Frozen Light Theatre productions in their multi-sensory performances for audiences with Profound and Multiple Learning Disabilities (PMLD). They have been touring passionately since 2012 and their shows encompass all the senses by using music, signing and one-to-one interaction to make theatre accessible to the needs of the audience. Their latest show, 'The Forest', is currently on tour around the UK. We spoke to Lucy Garland, co-artistic director, about the company.
What inspires Frozen Light Theatre performances?
When we create our shows the needs of our audience are always at the heart of what we do. We work really hard to ensure that we create a high quality piece of theatre that meets the access needs of our audience. Therefore, the sensory elements are at the forefront of our work - not added on as a secondary thought.
Can you describe what a sensory element is? Do you have an example you can share with us?
In our latest show, 'The Forest', there is a fire. The fire is built on stage with pieces of wood which are collected from around the audience. The wood not only has its own texture that the audience can feel but we have also impregnated it with the smell of wood smoke. We work on a one-to-one level with each audience member to help them smell the fire. Once built on stage the fire then glows red.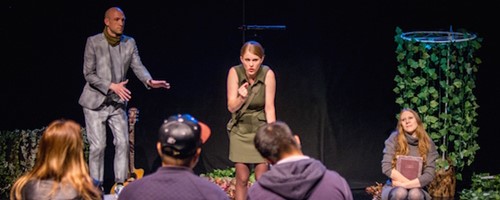 You perform to very small audiences, why is this?
The one-to-one interactions are key to our work, so we only perform to small audiences of six people with PMLD plus their carer/companions and any additional friends and family. The one-to-one interactions allow us to communicate with our audience on a level that is appropriate for their needs. People with PMLD are so often asked to fit into the world and into the conventions of everyday; but at Frozen Light we want to use our theatre to try and enter into their world and provide an enjoyable entertaining experience especially designed to meet their access needs. We also ensure that the carer/companions have a brilliant time as well, and therefore we have built in many collective sensory moments that all the audience can experience and enjoy together in their own way.
What other considerations might there be for audiences with PMLD?
It is also really important to create a safe space as many of our audiences have never accessed the theatre before. We discovered during our Tunnels tour that 44% of our audience with PMLD had never been to the theatre before. We can create a safe space in a number of ways: firstly, we strip away the conventions of traditional theatre. No one has to sit still or be quiet, there is no raked seating and our space is 100% accessible for wheelchair users, and people can leave and enter the space as many times as they need to. Secondly, we provide visual stories (for the audience member with PMLD) and pre-show guides (for the carer/companions) before the show. These provide photos and information about what will happen during the show and what to expect. This hopefully makes the trip to the theatre more enjoyable.
How are you spreading the word about Frozen Light?
For us, it is really important to reach as many people with PMLD as possible with our work and so we are committed to touring. We also work closely with each venue we visit and provide detailed box office, marketing and front of house training. Through doing all of this we hope to leave a legacy of theatres opening their doors to people with PMLD and helping to make the needs of people with PMLD more visible in our society.
'The Forest', Frozen Light's latest production, is touring venues across the UK now. You can access the visual story and pre-show guide here.