Ten Scottish hotels for an easy access getaway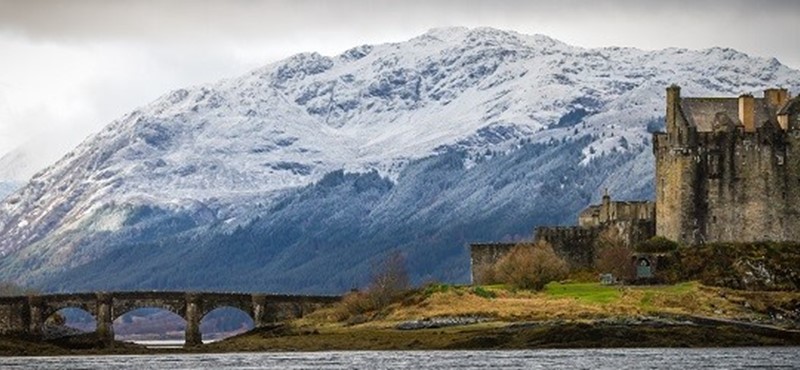 Tartan carpeted hallways, views over city chimney tops or misty, mountainous landscapes; a stay in a Scottish hotel is sure to be comfortable and relaxing, all while knowing that adventure awaits you outside! Here are ten hotels that have been reviewed, and loved by disabled travellers on Euan's Guide.
Lochside House Hotel and Spa, New Cumnock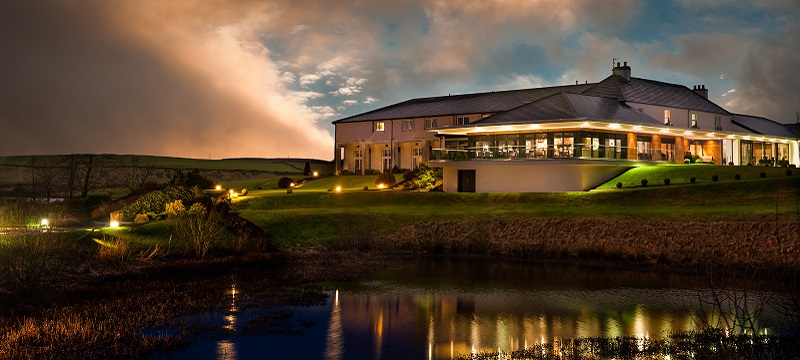 Set amidst the Ayrshire countryside and overlooking the Loch of Lowes, Lochside House Hotel and Spa is an idyllic setting to explore the corner of Scotland that inspired the poetry of Robert Burns. One wheelchair user gave this hotel 4.5 stars saying:
'Lovely spacious accessible bedroom with a large ensuite wet floor bathroom and sliding door onto an outdoor sitting area overlooking part of the grounds.' Read review >>
Crieff Hydro Hotel, Crieff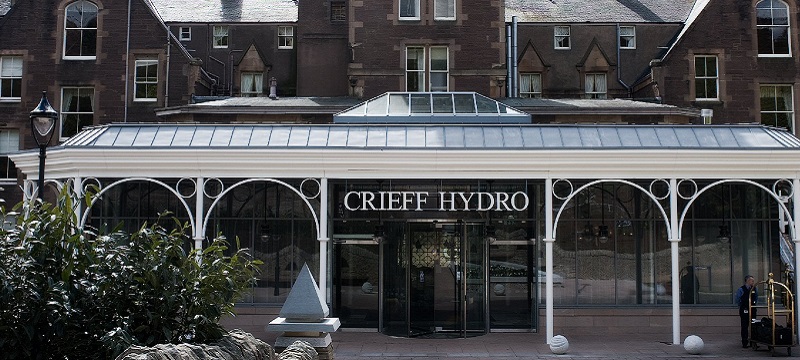 Head to the hills of Perthshire and drop your bags at Crieff Hydro Hotel for a luxury break in a former Victorian retreat. One mobility scooter user loved their experience at this hotel saying they had:
'A wonderful ground floor accessible bedroom with easy wet room. Lift access to all areas we needed into.' Read review >>
Cringletie House Hotel, Peebles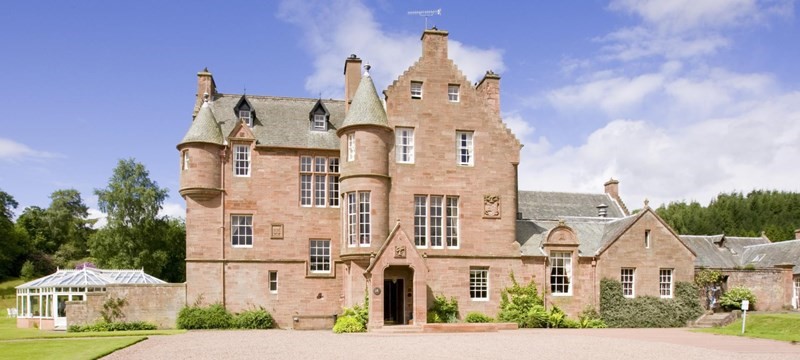 Want to stay in a castle in Scotland? There are plenty to choose from! This one in the Scottish Borders is surrounded by fragrant gardens and woodland. Cringletie House Hotel has also won accessibility awards and impressed reviewers on Euan's Guide! One visitor loved it writing 'castles can be accessible' and saying:
'The website talks of them having just one accessible room, but it sounded like they had more than one – they were on the ground floor and there was lift access to the first floor restaurant which has fabulous views.' Read review >>
Malmaison, Dundee
Described as 'gorgeous, funky and accessible' by one reviewer, Malmaison in Dundee is a restored 120-year-old building with views across the Tay. Another reviewer who is a wheelchair user loved staying here and said:
'We had an accessible room, where the bathroom facilities were excellent – wetroom, grab rails, folding shower seat, low level wash basin, etc.' Read review >>
Millennium Hotel Glasgow, Glasgow
Overlooking George Square where there are events year-round, Millennium Hotel is a perfect base for exploring the city of Glasgow! One reviewer wrote that it was in a 'fantastic location with great access' and said it was:
'The first hotel I've been in that actually went through a PEEP (fire evacuation plan) which I thought was great and made me feel very comfortable staying there. We had booked an accessible room and it was huge!' Read review >>
New Lanark Mill Hotel, Lanark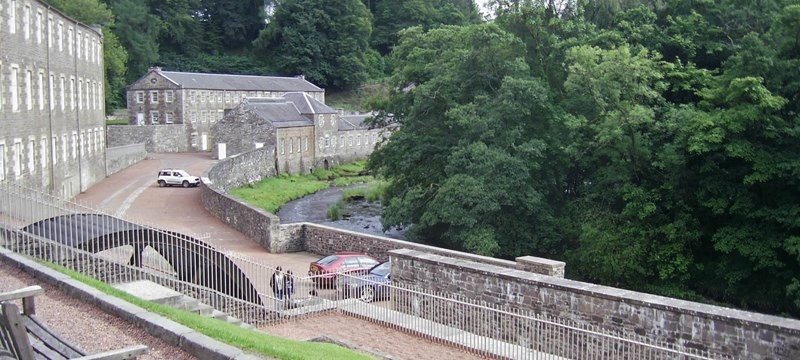 Have you ever stayed in an 18th century cotton mill before? This one has been converted into a stunning hotel, and it can be found in the heart of New Lanark World Heritage Site overlooking the River Clyde. A guest who stayed here told us it had 'lifts to all floors' and wrote:
'We stayed one night here on our way back from Scotland to home but it's worth spending more time here as it's not just a hotel but a World Heritage site with a visitor centre and plenty to see. Definitely recommended for somewhere a little different to stay.' Read review >>
Lamlash Bay Hotel, Lamlash
A hotel perfect for spotting seals and enjoying the shorefront, Lamlash Bay Hotel is family-run and located in a small Isle of Arran village. Here you can enjoy stone baked pizzas and a variety of beers, ales and malts while you stay! One wheelchair user gave this hotel five stars saying:
'If you book the family suites you have your own entrance which has a ramp. The hotel is facing the sea with beautiful views and next to an accessible supermarket with friendly staff and nice wide aisles.' Read review >>
The Douglas Hotel, Brodick
Also found on the Isle of Arran is The Dougals Hotel, a luxurious and homely hotel with an award-winning restaurant. The bar is the ideal spot for whiskey-tasting as you enjoy the views across Brodick Bay. A wheelchair user who stayed here loved the hotel saying:
'The hotel commands a beautiful view over Brodick Bay. The food in the restaurant is very good. Our ground floor bedroom was huge, as was the en-suite.' Read review >>
Sheraton Grand Hotel and Spa, Edinburgh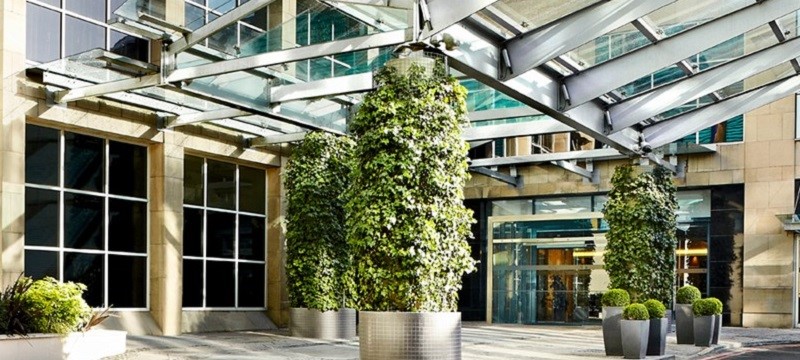 If you'd love a spa break in the capital city, Sheraton Grand Hotel and Spa is worth checking into. They have also recently added a pool hoist for their swimming pool! One reviewer thought it was out of this world, and wrote:
'The Sheraton wasn't a visit, but more of an experience. With two very accessible bedrooms along with interconnecting rooms, the hotel has much to offer.' Read review >>
Waldorf Astoria, The Caledonian, Edinburgh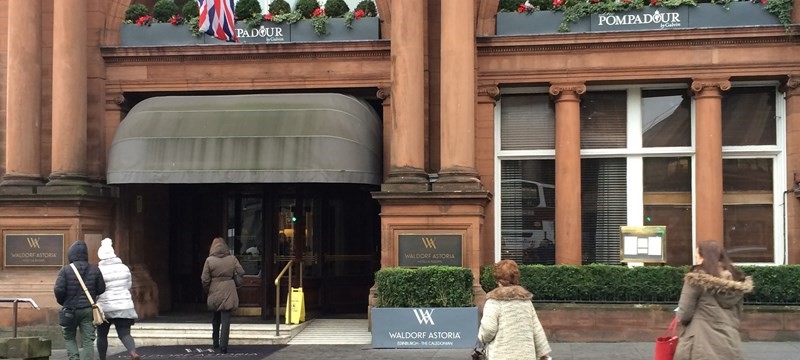 Known locally as 'The Caley', this luxury hotel can be found beneath Edinburgh Castle at the west end of Princes Street. It was once a Victorian railway hotel, and now it is an ideal destination for exploring Scotland's capital! One powerchair user gave this hotel 5 stars saying:
'The accessible bedroom was a surprise in that the door opened to reveal so much space. The room door had a clearance of 86cm, so plenty of room to wheel in.' Read review >>
Have you stayed in Scotland?
Tell us what access was like at your hotel! Write a review >>
You might also like:
Top 5 cottages for an accessible summer getaway
Disabled access guide to Edinburgh