Glasgow is Scotland's biggest city, best known for its culture, vibrant live music scene, and architecture. 'People make Glasgow' is a phrase often heard when discussing this fair city, with the community being some of the friendliest faces you'll see. The famous artist and architect, Charles Rennie Mackintosh hailed from here and its clear to see as a lot of the city's architecture is simply breath-taking. From arts and music festivals, to rugby tournaments and motorbike championships, you're sure to find something to entertain yourself in this wonderful city – and don't forget to try the locals' favourite fizzy drink – Irn Bru!
Getting to Glasgow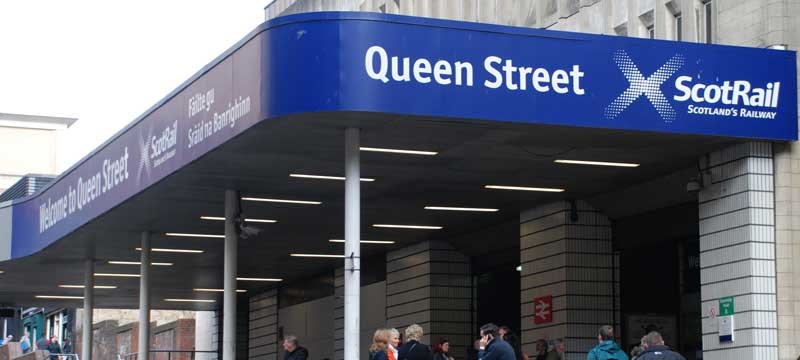 Glasgow is well connected to Central Scotland's transport network and can also be reached by bus or train. Scottish Citylink buses have retractable steps for manual wheelchair access and have a 5 star review on Euan's Guide. One passenger wrote:
'I travel a lot on these coaches. They take the front seat out and they have a lift, the steps move in and the lift takes you into the coach. If you have a Scotland wide disabled/elderly buss pass, you can get on free on all citylink coach trips.' 
If you prefer to travel by train, Glasgow's main train stations are Glasgow Queen Street and Glasgow Central Station, both with very good disabled access reviews.
Drop off your bags
There are several reviews of good accessible hotels on Euan's Guide where you can get settled for your stay in the city. Close to the city centre, Thistle Glasgow Hotel has a 5 star access review for their accessible suites. One reviewer told us there was 'level access on all floors and the doors where more than wide enough to accommodate a wheelchair.' They also said that the room 'had two double beds and an accessible bathroom.'
Alternatively, Campanile Hotel has a 4.5 star review and is close to the major concert venues on the banks of the River Clyde. There are 'several disabled spaces in front of the hotel entrance' and the 'accessible bathroom in room was huge' wrote one reviewer. 
If you would prefer to stay a little further from the centre of Glasgow, you cold try the Orchard Park Hotel which has 4.5 stars for accessibility. One guest was impressed by the staff and said, 'their attitude and willingness to assist is excellent.'
Get cultured
A European City of Culture, there are plenty of museums and attractions throughout Glasgow to appeal to all ages. Tucked behind the busy Buchanan Street is the elegant Gallery of Modern Art which offers free admission to work by local, national and international artists. The gallery has been rated 4 star overall on Euan's Guide with one reviewer advising that there are accessible ramps to the entrance, although they have been 'cleverly blended in to be in keeping with the look of the building'. You can find the ramps either side of the front steps.
Another free attraction is Kelvingrove Art Gallery and Museum near Glasgow's west end. With over 22 themed galleries, Kelvingrove is a Glasgow treasure and has an overall rating of 4.5 stars by reviewers. One reviewer loved the building's wheelchair access saying 'access via lifts is seamless and every area of the museum is accessible (although the shop is quite tight).' You can see a BSL Welcome Video to the museum here.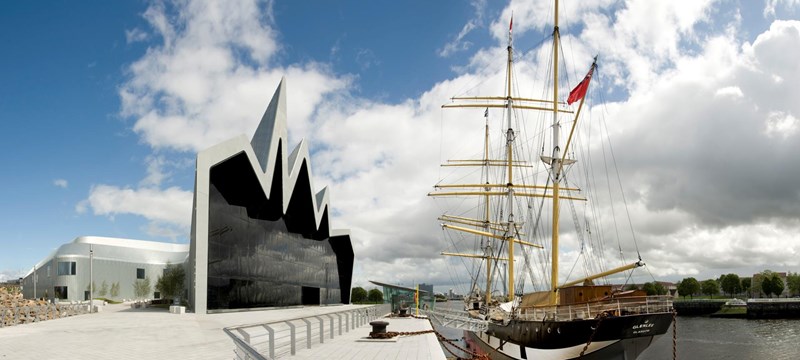 If you're looking for something that is 'not the usual image of a museum', try the Riverside Museum which has over 3000 objects on display covering everything from the River Clyde to Scottish fashion! The museum has a 4.5 star rating on Euan's Guide with one reviewer saying 'there were some really good accessibility features such as the BSL display screens'.
For those visiting Glasgow with children, the Glasgow Science Centre is a fun and educational museum with lots of hands on exhibits for guests to enjoy. The centre has a 4 star review and our reviewer told us 'there seemed ample staff and they were very friendly and accessible'.
The Royal Conservatoire of Scotland is a conservatoire of music, drama, and dance. With 4.5 stars from one reviewer it's been highly recommended! This guest was pleasantly surprised at the range of performances and opportunities on offer for disabled people. The accessibility has been given 4.5 stars:
'I visited several of the performance areas and these were all easily accessible to me as a powerchair user. Some performances were tailored for hearing impaired people; as well as relaxed performances.' The toilets have been described as modern and very spacious – delightful! There were also 'infra-red sound systems, induction loops, and sighted guide training.'
See the city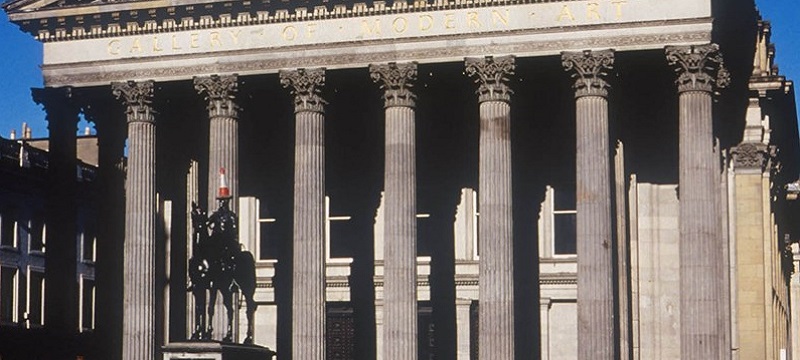 Soak up the Glasgow atmosphere by making your way through the city with City Sightseeing buses. One reviewer gave this tour service 4 stars and told us 'as a visually impaired person I found the tour to be a great way to discover Glasgow'. Be sure to stop by the iconic George Square and look out for statues donning traffic cone hats!
For that perfect view of a west coast sunset over the River Clyde, make sure you head to the Clyde Walkway and Millennium Bridge before evening arrives. One reviewer loved this part of the city as it had 'surprisingly good surfaces to wheel along and was step free' and there was 'plenty of room to walk along and have a conversation rather than having to wheel in the usual train formation'.
Be a good sport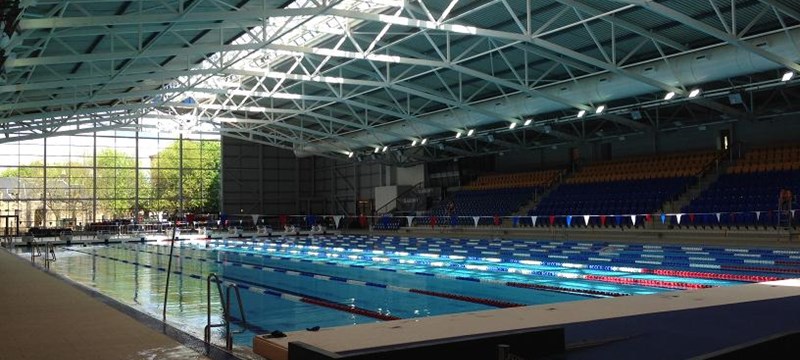 Glasgow hosted the 2014 Commonwealth Games and has a long-standing sporting legacy from its rivalrous football stadiums to state of the art velodromes and sports clubs. Glasgow Golf Centre has a 4 star review as had 'unexpectedly good' access. If you feel like going for a swim, give Tollcross International Swimming Centre a go as it has a 5 star review with 'level access all the way from the car all the way through the changing rooms to the pool!'.
Indulge in some retail therapy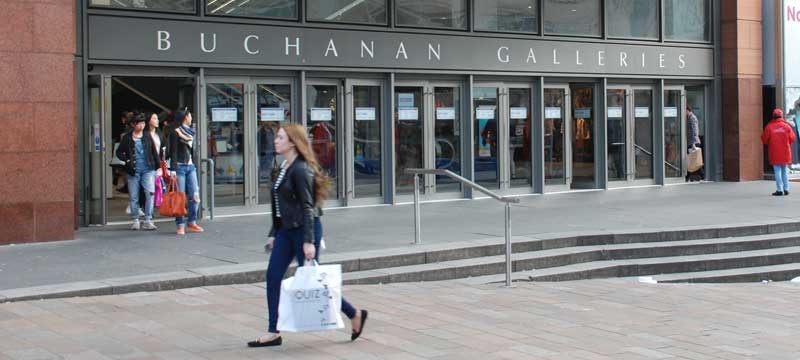 Browse everything from affordable high-street to luxurious brands in Glasgow's many shopping arcades and centres. Argyll Arcade is a must-see for those in search of new jewellery! 'Undercover with a smooth floored easy to access arcade and plenty of shops', this venue has 4 stars on Euan's Guide. For a selection of high street stores and designer fashion, explore the major shopping destinations, Buchanan Galleries and St. Enoch Centre, both highly rated for good access.
Get some 'scran'
'Scran' which is Scottish slang for food, is going to be needed after a long day of sightseeing! You'll be able to explore lots of food and drink venues throughout the city, but reviewers have recommended Drygate Brewing Company with its 'microbrewery theme with on premises brewing and over 30 different beers on tap. Accessibility second to none from first arrival'. Another highly recommended restaurant is the Wee Lochan which has a 4 star review as 'staff are very accommodating which make a restaurant that could be a tight squeeze, very comfortable'.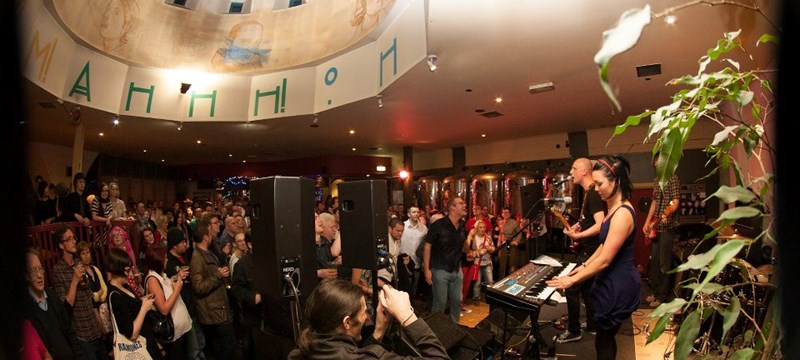 Mono Cafe Bar is a music venue serving vegan food that is accessible from ground level and has ramp access between the different levels inside. 
If you're a fan of seafood Gandolfi Fish has a fabulous 5 stars on Euan's Guide. This sleek café/restaurant in the Merchant City district of Glasgow boasts a wonderful selection of seafood delights. Our reviewer said it was a 'top class fish restaurant, The atmosphere, mindful staff, and food were excellent. Facilities also very good. Favourite fish restaurant in Glasgow. Scallops and blackpudding do not disappoint.' Now that's a recommendation you can't ignore!
Mother India is another restaurant with a 5 star rating on our site. With the reviewer describing it as a 'fine dining Indian restaurant in Glasgow's west end. Great atmosphere, great service, amazing food.' Well, we can't argue with that, a top tip this reviewer gives is that 'when booking, remember to ask for a table on the ground floor, as there are several.'
For a fine dining scene, you might want to try Hutchesons Bar and Brasserie on Ingram Street. One powerchair user gave this venue five stars saying, 'The highlight of the visit was being able to access all the areas of the building I wanted to. From the ground floor bar area and adjoining room through to the dining experience upstairs. All done with an eye for detail and a really funky lift to match!.'
Let Glasgow entertain you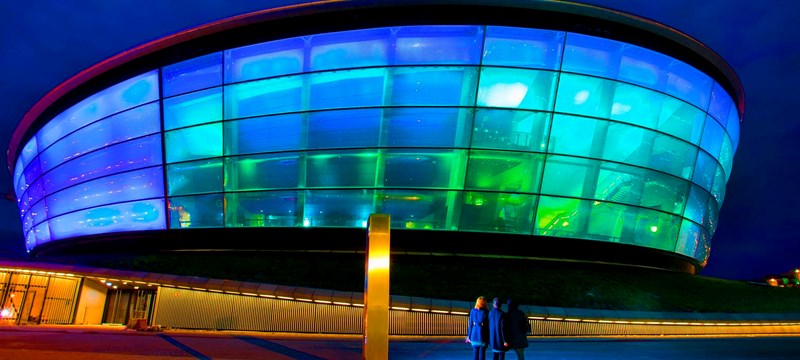 Glasgow has numerous theatres and concert venues where you can see live acts and performances all year round. Check out what's happening at the impressive SSE Hydro which has 'fantastic wheelchair access inside and out' according to one of our reviewers.
Alternatively, get yourself tickets to a show at Glasgow's oldest theatre, the 5 star Theatre Royal. One reviewer loved this venue and said they were 'deeply impressed at the attention given to accessible services'.
Changing Places Toilets
Changing Places Toilets in Glasgow can be found at:
Could you review Glasgow?
If you live in Glasgow or have visited the city, we would love to have reviews of your favourite accessible places on Euan's Guide. You can submit a review here. 
Last Updated - January 2017