Whitby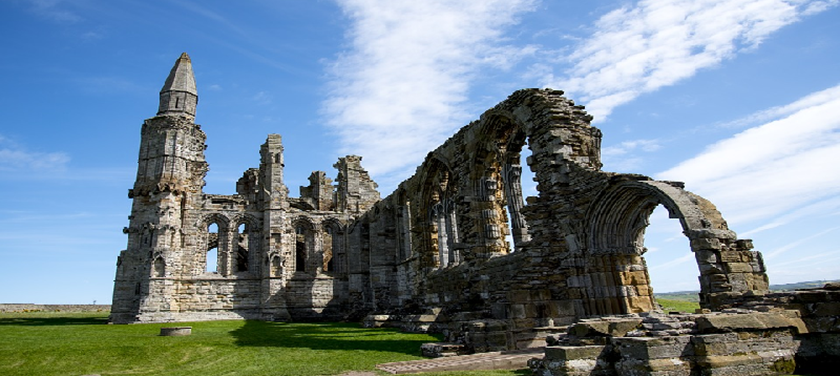 The seaside town of Whitby sits just below the North Yorkshire coastline, and is divided by the River Esk. It is often said that this town has two personalities: on the one hand, it has a busy fishing port with a lively harbour fish market, and on the other it is a thriving destination for holiday makers for its traditional seaside resorts. If you're struggling between a seaside or countryside getaway, Whitby might just be the answer!
The windswept coast, gloomy abbey ruins and a church with gothic architecture makes it easy to see how Bram Stoker found his inspiration for the famous gothic horror 'Dracula' in this town. Luckily, there are plenty of cheerful seafood restaurants and cafes to lift your spirits!
Wheelchair accessible restaurants
Magpie Café
If you're looking for somewhere to eat in Whitby, The Magpie Café has received positive feedback on Euan's Guide for its disabled access and is well renowned in this area for its impressive range of seafood. It also has fantastic views overlooking the harbour!
This café has been rated 4 stars on Euan's Guide for its accessibility One powerchair user wrote: 'Our party of 10 all enjoyed our meals chosen from an extensive menu. The staff were friendly and helpful to me in particular. The toilets are located on the top floor which is accessible for my wheelchair in the lift.'
Disabled parking is available outside of this café, however it is worth noting that there are stairs that lead up to the entrance. However, one reviewer advised to proceed further along the road past the entrance, as here you can use the dropped kerb outside of the arcade to return to the takeaway.
Trenchers Restaurant and Takeaway
The Trenchers Restaurant and Takeaway is another popular venue in Whitby for traditional fish and chips and delicious seafood. As well as eating in, you can also take-away while having a stroll along Whitby's harbourside!
Trenchers has been given a 5-star review on Euan's Guide for its excellent accessibility, with one reviewer praising the accessible toilets:
'Fully wheelchair accessible, excellent quality traditional fish restaurant that I go back to time after time. The disabled toilets have won a platinum award and quite frankly, took my breath away.'
The Star Inn the Harbour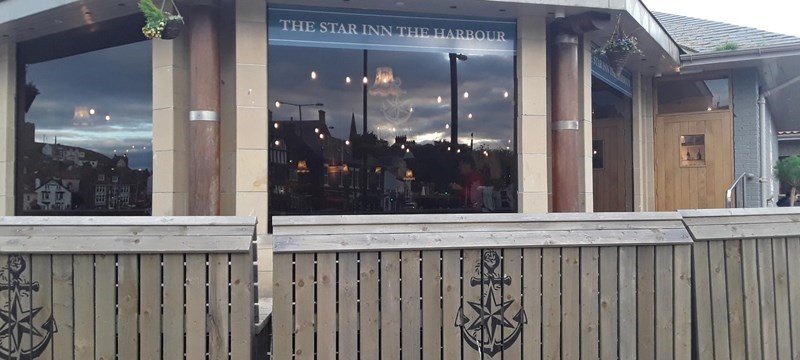 The Star Inn the Harbour has 4 stars on Euan's Guide and is located on the harbourside directly opposite from Whitby's train station. What visitors love about this restaurant is the spacious interior that accommodates wheelchair and powerchair access.
One visitor told us that the disabled access was 'right up there with the best!' and commented: 'The spacious interior of the restaurant makes it very easy to accommodate my wheelchair despite it being busy. I also enjoyed being able to see everything, both inside and outside, which isn't always the case when I'm given a table "in the corner"'.
Somewhere to stay
Raithwaite Hall Hotel
If you are looking for somewhere to stay while in Whitby, the Raithwaite Hall Hotel is a high-end country house hotel that has good disabled access reviews on Euan's Guide.
One reviewer was particularly impressed with the hotel's fire evacuation plan, saying that the disabled access room was located on the same floor as the fire exit door and that: 'The room has vibrating pillows linked to the fire alarm which are available, on request, in other rooms used by Deaf guests.'
Summerfield Farm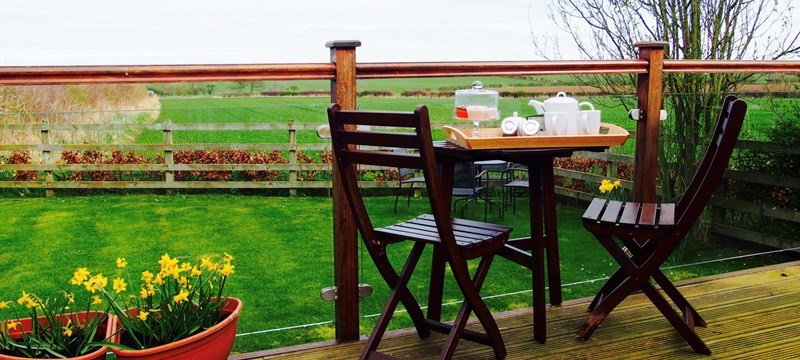 Summerfield Farm in Whitby is a self-catering accommodation that has been attracting a lot of attention on Euan's Guide lately! With 20 reviews overall and a 4.5 star rating, it is clear to see that visitors love this accommodation.. This cottage is located South of Whitby on the A171 and offers spectacular views of the countryside!
Talking about accessibility, one visitor told Euan's Guide that:
'They have made a big investment in accessible equipment with hoists and adjustable beds, which makes staying at Summerfield so much more comfortable for my daughter and us. In addition, the accommodation is of a high standard and has a lovely garden for a pleasant early evening drink.'
Euan's Guide were keen to find out just how accessible Summerfield Farm's really is, so we got in touch to find out more information! Summerfield Farm told us that prior to their guests arriving, they take time to communicate with them and get to know their individual needs in order to offer the best experience for visitors. You can read the full interview here >>
Can you help review Whitby?
We have got lots of great reviews of Whitby, but we need more reviewers to share their experiences! Do you have any hotels, restaurants or attractions with great disabled access to recommend? Get started by writing a review.
Last updated: November 2017