Dunfermline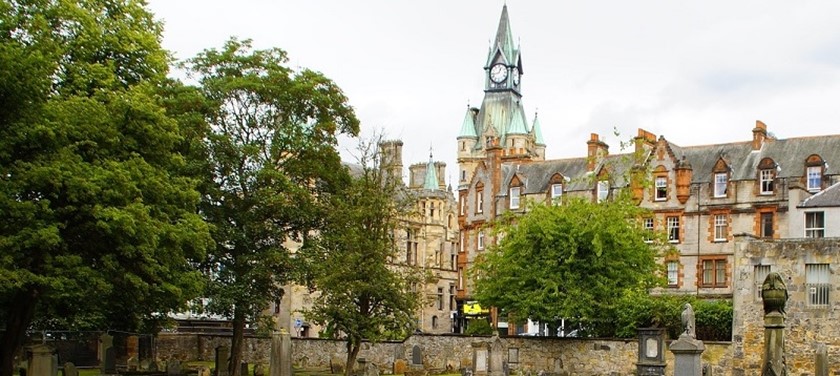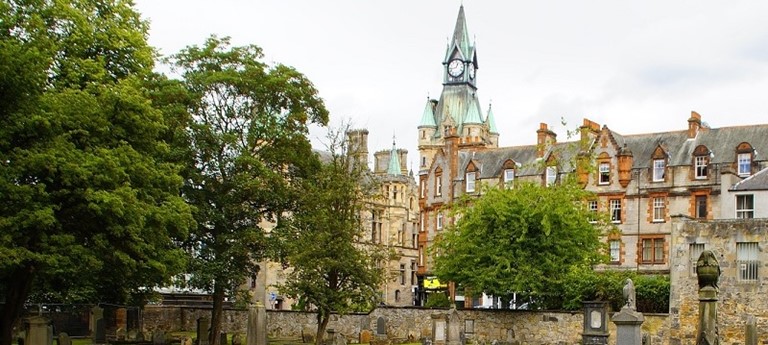 Dunfermline, resting place of kings, is a Scottish town with much to offer. Visitors can explore the impressive ruined Abbey and Palace, resting place of Robert the Bruce, or wander the luxuriant grounds of Pittencrieff Park with its Art Deco pavilion. The Andrew Carnegie Library and Gallery with its huge Changing Places toilet has a dazzling collection of classical and modern art, while the Andrew Carnegie Birthplace Museum lets visitors explore the life and legacy of the town's most famous son.
Getting around
There is a direct rail link to Edinburgh and beyond. Parking is provided at key attractions such as the Abbey and Palace, Pittencrieff Park, Carnegie Library & Gallery and at the Carnegie Birthplace Museum. The town's close-knit attractions are all within easy walking distance of one another.
Join a Dunfermline tour
"There are several different walking tours led by Jack Pryde, who is Dunfermline born and bred." If you'd enjoy an insider's perspective on Dunfermline, check out Discover Dunfermline Tours! One visitor joined a wheelchair accessible tour and gave it 5 stars on Euan's Guide saying:
"The tour guide, Jack Pryde, is very knowledgeable and has gone to great lengths to create a walk that is accessible to wheelchair users and those who can walk with aids for 1.5 miles on relatively flat ground."
Peacocks in the park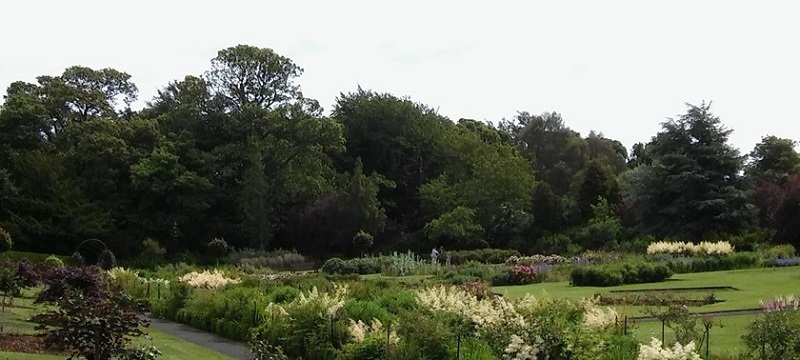 Pittencrieff Park is the home to a family of peacocks – if you're lucky, you might see the birds perform their courtship dance! One visitor who explored the grounds and its curios said "Having a ramp up into the Glasshouse to explore the plants was great!" If you enjoy comics, make sure you visit the park in March for the annual Comic Con!
Explore Andrew Carnegie's Legacy
The Carnegie Library and Galleries display a wide selection of artwork as well as special exhibitions and interactive events. The Gallery has been popular with Euan's Guide reviewers, with one reviewer giving the Gallery 5 stars for being "easy to wheel in with automatic doors, good signage, a choice of accessible loos, large open spaces and lots to see and do".
A five- minute walk away is The Andrew Carnegie Birthplace Museum where visitors can learn about the humble beginnings of one of the world's richest men. The curious museum offers an insight into life in Dunfermline in the 1800s, and although the cottage itself is not fully accessible, the birthplace museum has ramp access a selection of interactive exhibits. A reviewer gave this attraction 4.5 stars, saying that "Without doubt what made the visit was the enthusiastic and friendly people we met".
Dunfermline's Royal History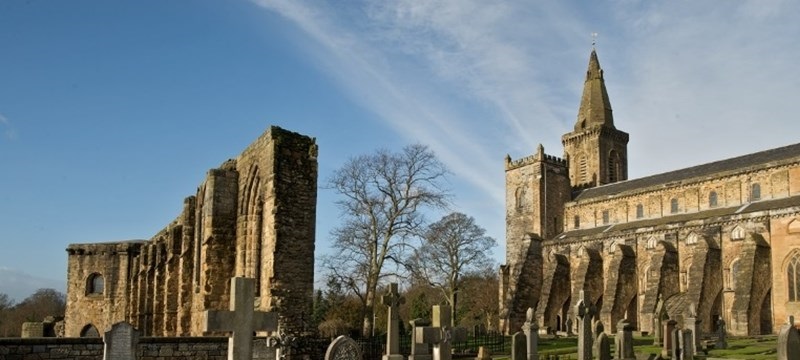 For over 300 years, Scotland's kings and queens were buried at Dunfermline Abbey. Some of Scotland's most famous rulers now lie under the Abbey, including Robert the Bruce and Saint Margaret of Scotland – the only female Scottish saint. The palace, abbey and grounds are open to the public and a paved walkway around the palace offers views of the palace and its surroundings.
Places to eat
In addition to its history and culture, Dunfermline also has a range of restaurants and cafes for you to choose from! Carlucci's Restaurant offers Italian and Mediterranean food in a cosy setting, earning a 5-star review on Euan's Guide for its good food, helpful staff and level access. For afternoon tea, why not try the Peacock Rooms Café in Pittencrieff Park? The café offers "coffee and cake with a parkland view" and would make for an ideal break during a tour of the park.
Can you add to this guide about Dunfermline?
If you've visited Dunfermline and can recommend places with good access, write a review on Euan's Guide! Write a review >>
Last Updated – September 2018
You might also enjoy: