The Worrying Rise of Assistance Dog Access Refusals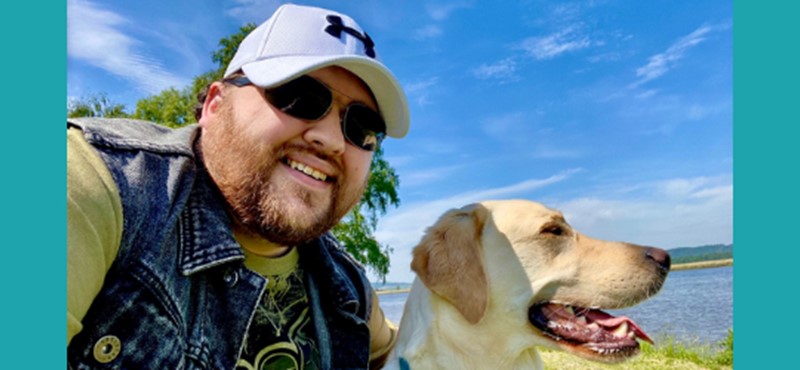 This week we hear from Jonathan Attenborough as he shares what it is like to experience an access refusal and some possible solutions.
My name is Jonathan Attenborough, I am a Euan's Guide Ambassador and I am registered blind. I have a guide dog called Sam. He is a yellow Labrador Retriever cross and we have been partnered together for almost 3 years now. 
Something I wanted to write about, and an issue that is very important to me, is the issue of assistance dog access refusals. The Equality Act (2010) is clear in that all assistance dogs must be allowed to accompany their owners in all public places including shops, cafes, restaurants and taxis. Sadly, for a long-time many guide dog and assistance dog owners have been experiencing access refusals on a regular basis. I have sadly experienced quite a number of refusals, these refusals for the most part have been taxis and private hire vehicles but I have also experienced access refusals in cafes, a post office and a bakery as well. Access refusals are discriminatory and illegal under the Equality Act, but the enforcement of the law is poor and all companies have different complaints procedures so very little ever comes of an incident sadly. 
What has been extremely concerning to me though is that since the first lockdown ended in the summer of 2020 the number of access refusals has increased dramatically, one report suggested as much as 50% which is totally shocking! Throughout the second half of 2020 there was a new story in the media about a guide dog or assistance dog owner being refused access somewhere pretty much on a weekly basis. Another alarming fact is that many of these venues were also using Covid as an excuse to deny people entry with their assistance dogs. This issue was also highlighted on a BBC television programme in January 2021 called Targeted: The Truth about Disability Hate Crime. There was a guide dog owner featured on this programme who had faced a number of refusals during the coronavirus pandemic. 
This does appear to be an accelerating problem and I think it's an issue that needs to be tackled soon before it gets out of control. I think first and foremost people need to understand the reasons why a person may need an assistance dog or a guide dog and also understand the impact that refusing someone entry just because they have an assistance dog. I know from experience it is deeply humiliating and a really unpleasant experience and can really knock people's confidence. The stress of having to deal with putting in a formal complaint after the incident as well is enough to put people off from even reporting incidents of access refusals because it is emotionally damaging as well. For this very reason many access refusals are not reported. 
In my opinion there needs to be a joined-up approach to tackling this problem. I don't think it can be left to one individual or one organisation to tackle this issue. This is why I have called on organisations like RNIB, Guide Dogs, legal firms, assistance dog owners to all come together and come up with a collaborative approach to putting an end to discriminatory access refusals. A couple of solutions have been discussed such as lobbying to make it a criminal offence, rather than just a civil offence as it is at the moment, this would mean that if an assistance dog owner was refused entry to a venue then the owner would be within their right to phone the police to attend and the police could issue an on the spot fixed penalty. It is a criminal offence in France for example and consequently they have very few guide dog access refusals in comparison to the UK. Obviously changing the law takes time and can be quite a lengthy process so there are preventative measures that some venues could consider in the meantime such as using technology, for example, the Welcome app by Neatebox could be used to alert venues of a person's arrival and would not only inform the venue of the person arriving but also of their legal obligation in relation to assistance dogs and how best to assist the customer as well. There are also other things such as compulsory staff training in disability awareness, but also encouraging places to employ more disabled staff as well. I think if there were more disabled people in frontline customer facing roles then they would also be best placed to inform staff about their legal obligations, not only to guide dog or assistance dog owners, but to disabled people in general as well. 
It is sadly an issue that is not going away anytime soon, but I am determined to do all that I can and work with others to help put a stop to this problem. 
Thank you Jonathan for coving this important topic in our Voices of Covid series. You can find all the blogs in the series here. Please contact us if you would like to take part or find out more.