Recommended Self-Catering Accommodation in England for your disabled holiday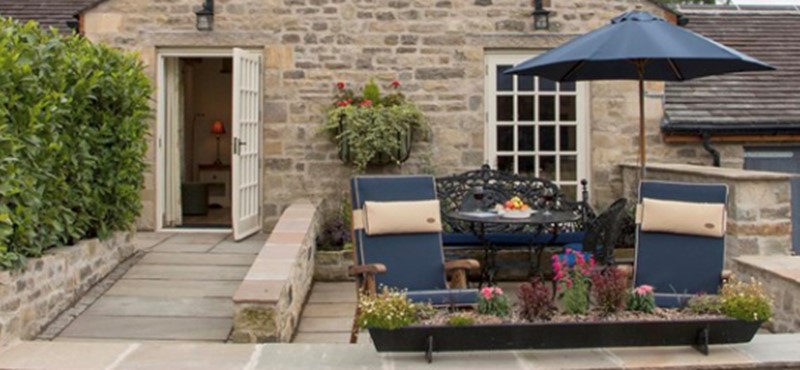 Whether you are planning a trip or a holiday, one of the most important things to consider is finding somewhere to stay, whether that be a hotel, self-catering or a B&B. We here at Euan's Guide know that travelling outside of Britain can be unpredictable and, in some cases, not an option right now. That is why we want to help you find places to stay for holidays inside of the UK. There are many great holiday destinations around Britain that can fit any holiday you are after, whether it be a family trip or relaxing cottage visit. Here are just a few of the highly recommended accessible self-catering accommodation from around the UK.
This blog series will be split into two, focusing on holiday accommodation in England and Scotland respectively. Read on to view some of the highly rated accessible self-catering options in England that have been recommended by reviewers. Or click here to view some of the great options available in Scotland.
Hoe Grange Holidays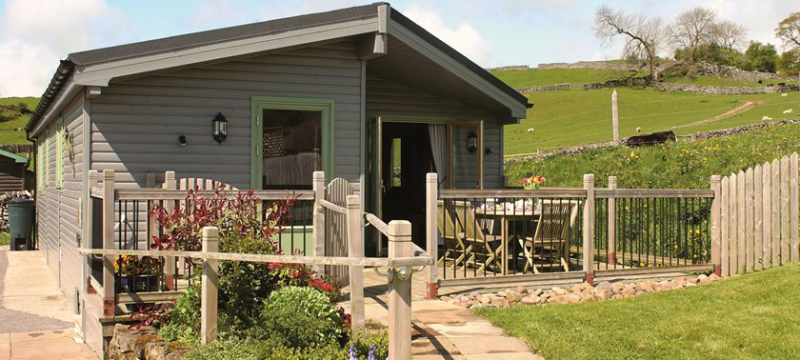 Hoe Grange Holidays house 4 luxury log cabins in the heart of Derbyshire countryside. These cabins, located on a working farm, offer a range of accessibility aids such as hoist, profile bed, shower chair, rise and recline chair. On Euan's Guide the venue states: "also available for hire is the amazing Boma 7 off road mobility scooter/wheelchair to open up the countryside's trails to those whom might not normally be able to enjoy them". 
Further, the owners Felicity and David live on site, and can arrange or remove furniture to suit your needs. As well as provide dog bed, towels, bowl and throw to any visiting assistance dogs. Hoe Grange has many reviews on the Euan's Guide website, most recently a guest has said that "Facilities for me as a severely disabled person were excellent. David was always around or contactable for any queries. The Boma 7 was absolutely fantastic, it gave me freedom which I rarely get since my disability took away my independence. Thanks to David and Felicity for a marvellous time." Overall, a stay in a Hoe Grange cabin would be an excellent choice for those with mobility issues or wheelchair users as the cabins offer ease of access and various options for exploration. 
Cottage in the Dales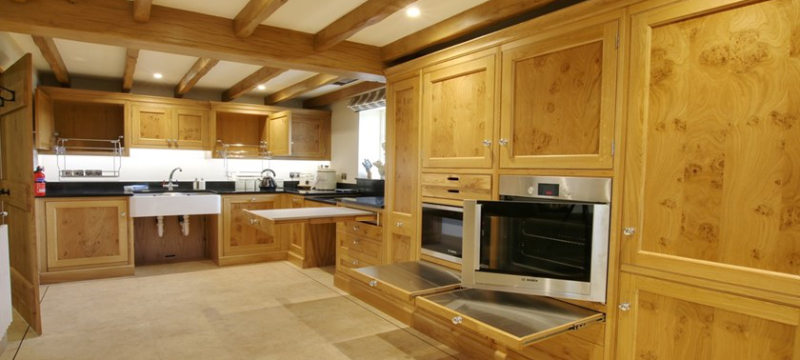 How about a trip to Yorkshire? Cottage in the Dales is home to 3 award-winning luxury cottages located in the Yorkshire Dales National Park. The venue has various accessibility aids including having all doors 1m wide, all switches/sockets at NAS accessible heights, pull down hanging wardrobes, pull out shelving/drawers in all rooms, fully accessible kitchen, bathroom & wet room. Visitors have left many reviews, here's what a few had to say on these cottages: "This is the best we have visited, I would give it 5 Star + ; however unable to do so as the grading stops at 5 Star." There are several activities in the area to explore such as an auction house, excellent restaurants, many antique shops and the Wensleydale Cheese factory. 
Forest Holidays Blackwood Forest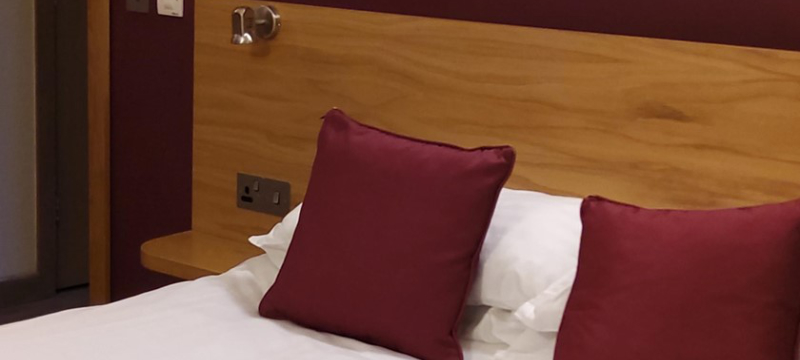 Forest Holidays is based in Winchester, with assessable cabins for booking. They create authentic experiences in Britain's amazing forests; connecting people, nature and local communities. The company is involved with support local wildlife and educating others, which makes a stay with them filled with relaxing nature. Their assessable cabins include a hoist for the room and for the hot tub, as well as ramps, level access and space under the oven hob for ease in cooking. They also sport wet rooms with grab rails, shower seat and an emergency alarm. One guest commented: "It was a lovely place that met my access needs and I'll be going to other forest holiday locations."
Hope Cross Cottage at Vicarage Farm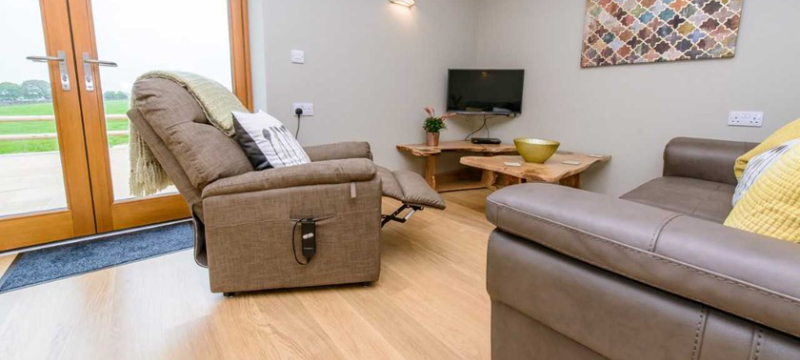 Hope Cross is an accessible holiday bungalow in the heart of the Peak District.  Designed specifically with access needs in mind, it has two bedrooms and a spacious open lounge/dining area/kitchen with a large patio and glorious views over the fields and dales. There is level access throughout the cottage and around the outside, also to the other three cottages, games room, laundry and other facilities across the road. The cabin has a wet room, hoist and the shower chair converts to a commode chair which also sits over the toilet. As well as the walls and floors having high colour contrast for guests with visual impairment. Guests have stated that "There wasn't a single thing that I thought 'I wished I had bought that from home' as it was all here" and "Looking forward to returning and would recommend to others".
Croft Bungalow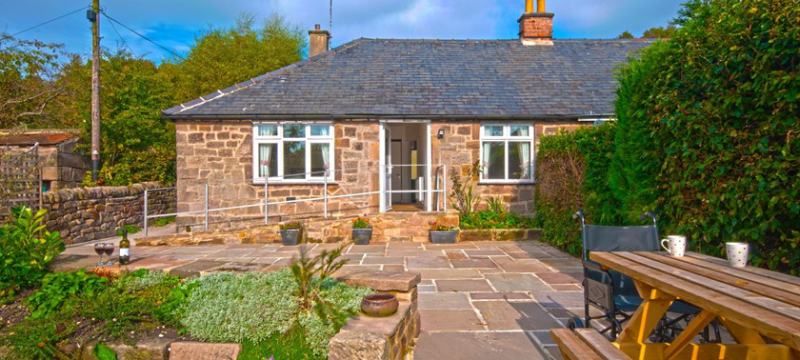 Another option in the Peak District is the Croft Bungalow, adapted to be a wheelchair friendly family cottage in a holiday village. It is wheelchair friendly with ramps and open plan throughout, with a roll-in shower with static shower chair. The decor is painted to be visually impairment friendly and show the contrasts of the door frames. The garden is a private south facing sun trap g with views over open countryside and wheelchair friendly picnic table and bbq. Visitors have said that " We will definitely be returning in the future. Our host provided sensory lights etc for the bedroom on arrival" and "So glad Ruth and Steve had a vision to create this holiday let to be accessible for disabled people as there are so few options for us. This is in the quietest village I have ever known, with a lovely campsite, recreation grounds and the prettiest of gardens and interesting buildings". 
Not found what you are looking for? Search on Euan's Guide.
Or check out a few of the places waiting for their first review:
While you are here you might want to take a look at our two blogs on some of the great accessible travel tips our Ambassadors have shared to help you travel with ease. You can also go to our Forum share your own travel tips!