Canterbury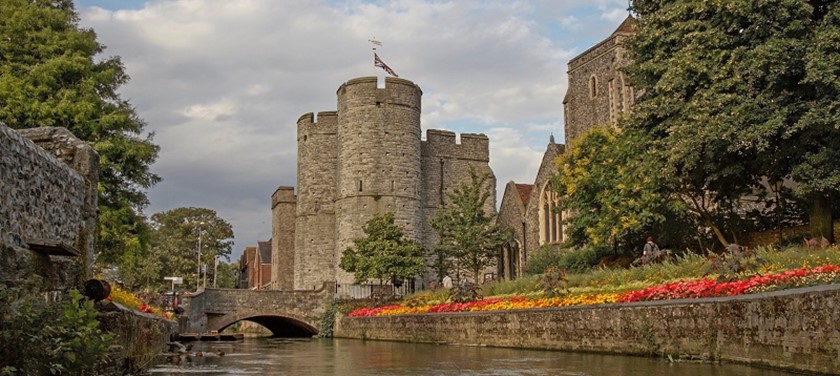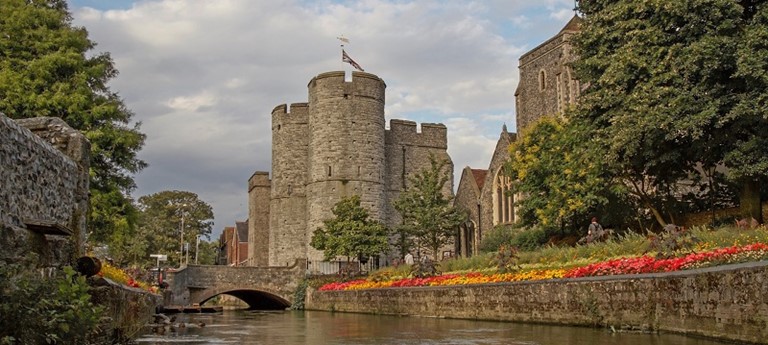 Canterbury
A small, English cathedral city that sits on the River Stour, Canterbury is a history-lover's delight with tourist destinations that include a UNESCO World Heritage cathedral, medieval Tudor architecture, a Norman castle, Roman walls and early Christian ruins. The city also has a great musical heritage having given its name to a genre known as the Canterbury Scene. It also hosts the Kent Tribute Festival every August. Autumn is a great time to visit as the Canterbury Festival runs for two weeks every October.
Getting There
Travelling to and from Canterbury couldn't be easier with numerous bus and train links. It's just one hour on the train from London and has excellent links to local seaside towns including Herne Bay and Whitstable. Apparently we can thank the Romans for the excellent transport routes as they designed them with Canterbury at the heart – the Roman capital of Kent!
Places to Stay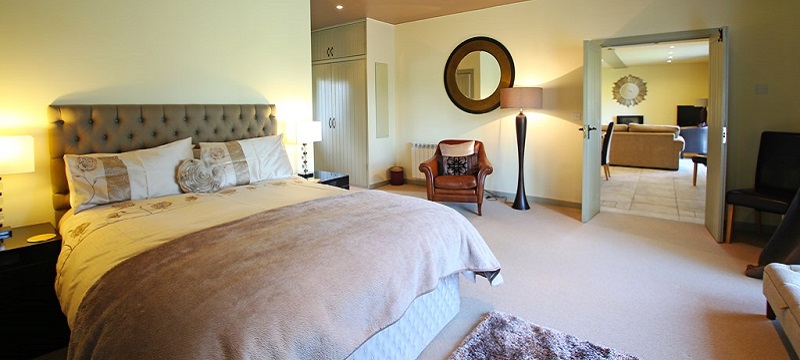 Photo: The double bedroom in Damson Tree Cottage at The Mulberry Cottages.
With so much historic sightseeing to do in Canterbury, you'll need somewhere to rest your head! The Mulberry Cottages are beautiful, luxurious, accessible self-catering cottages that are "fully accessible for disabled guests". Their bathrooms are "designed to cater for those with less mobility, some have wheelchair access too". 
If you fancy getting out of the town and into the stunning countryside, then The Iffin Farmhouse B&B might be a good choice! It's one for animal lovers as they have cows, sheep, ponies, chickens, cats, and dogs all in their registered small holding. They have self catered accommodation and bed and breakfast facilities.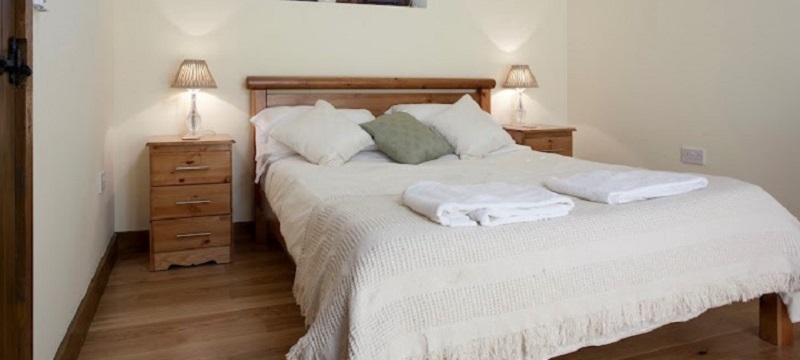 Photo: The bedroom in Iffin Farmhouse B&B.
Where to eat
If you're looking for somewhere good to eat, one reviewer recommends La Trappiste. This quirky restaurant has a selection of traditional food and Belgian beers to sample. One reviewer enjoyed it and said that it had "nice old furniture, old building and reasonable access". 
Another recommended cafe is the Lime Tree Café. It's been described as a "delightful" by one reviewer who gave it a 5 star review. It "'offers plenty of space to wheelchairs and delightful views. The café is part of the County Cricket Ground, available only to spectators on match days but open to all (7 days per week) on non-match days". There's "never a problem with getting a table, always space for children and wheelchairs. It looks straight onto the playing area of the ground and so has large panoramic windows and is bright and sunny even in winter!". 
You could also try Café Du Soleil; it's been given 5 stars by two reviewers, one describing it as having "excellent service with lovely food". The access is said to be great with "excellent access across wooden bridge straddling the Stour and large public car park alongside venue". Another reviewer, who uses a wheelchair, made a second visit as they were so impressed with the accessibility: 'excellent access, great restaurant, well arranged and designed".
Things to Do
"The Cathedral, together with St Augustine's Abbey and St Martin's Church, forms Canterbury's World Heritage Site." Canterbury Cathedral is a landmark attraction in the city and is listed on Euan's Guide as having accessible toilets and parking.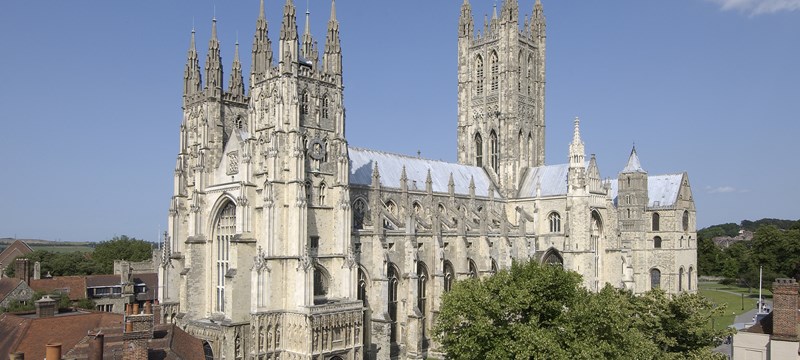 Photo: Canterbury Cathedral.
After reopening in 2011, The Marlowe Theatre revealed its improved accessibility and modern design by architect Keith Williams. It was described by one reviewer who is a wheelchair user as "a very modern theatre that can offer a very good experience for the wheelchair patron. Staff are generally accommodating and helpful. Front of house staff are aware of wheelchairs and so used to offering help as needed". One top tip from this reviewer is to book wheelchair accessible spaces in the stalls which are "excellent" as opposed to the "adequate" circle seating. 
The Gulbenkian is a university venue which plays host to several cultural events, guest speakers, films, and family shows. It's been rated an impressive 4.5 stars on Euan's Guide with one reviewer describing it as "a great venue access wise". They also wrote that there was "plenty of blue badge parking round the side of the building with a clearly marked path which was easy to push on". There is also "power assisted doors to toilet area" and "low counters for bar and food areas". They would highly recommend it with some of the best service they've had! Well we can't argue with that.
Late night drinks
If you're into late night drinks, live music and performances, you'll probably love Tokyo Tea Rooms! "There are two floors with an easily accessible and usable lift. The ground floor has plenty of seating in refreshingly large booths -relatively easy transfer if you're into that or plenty of room to bring a chair up alongside. There's a small stage where different acts perform (burlesque, contortionists, magicians), a dance floor and a bar serving wonderful Japanese style cocktails."
Have you been to Canterbury?
Canterbury is a beautiful city with lots to offer, but we would love to have more reviews of accessible accommodation and attractions in the city! If you have visited Canterbury and know a comfortable hotel or B&B, please share it with us in a review. Read our guide to reviewing or go ahead and submit a review here.
Last Updated – August 2018
Explore more of Kent