Cumbria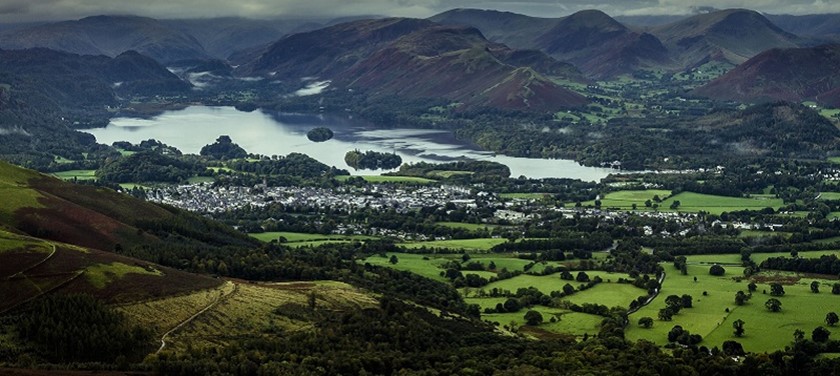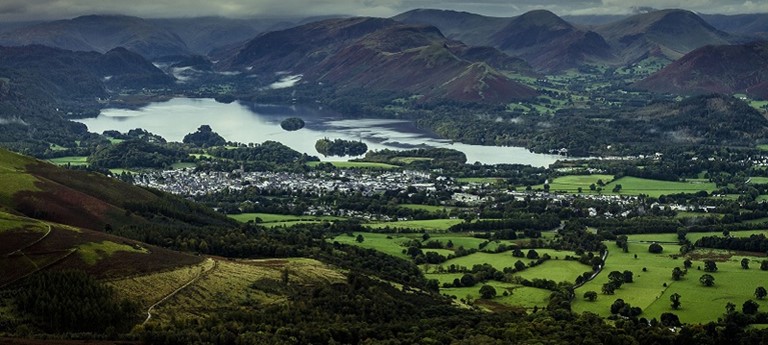 Cumbria is home to England's highest mountains and largest lakes, a dazzling watercolour of greens and blues. The striking Lake District is a UNESCO World Heritage Site, and is dotted with charming towns and remote villages high in the hills right down to lake shores. Local people and visitors alike have shared their favourite accessible hotels, trails and activities around the region on Euan's Guide, just don't forget to pack your wellies!
Accommodation with disabled access in Cumbria
If you'd like to stay in Appleby-in-Westmorland, The Hollies has been popular with reviewers on Euan's Guide! "Very accessible property, hugely helpful owners and a lovely comfortable place to stay in a beautiful part of the UK."
For a bit of luxury, the Rothay Manor in Ambleside is 'an elegant country house retreat' which has been rated 5-star: "They really try to help disabled guests, particularly in the way they have bathrooms in two disabled rooms."
Also popular with reviewers on Euan's Guide is Lake District Disabled Holidays in Windermere. One guest loved staying and wrote: "The accessible lodge was amazing. Parking is available directly outside the accommodation with ramp access to the veranda and main entrance."
Another reviewer stayed on the shores of Lake Windermere at White Cross Bay Holiday Park and Marina, and described their accommodation as, "a spacious and accessible log cabin set in woodland."
Read more reviews of accommodation in Cumbria.
Wheelchair friendly routes around the Lake District
If you enjoy walking, there are endless trails around the lakes and surrounding forests to explore. The Derwentwater trail has been described as being " well worth the effort as this walk mixes everything – mountains, water, prehistoric sensory input amid the old damp trees, sheep grazing, and panoramic views over the lake." In Keswick, the Whinlatter Forest Park was also reviewed on Euan's Guide: "The main trails are very good for using with a powerchair."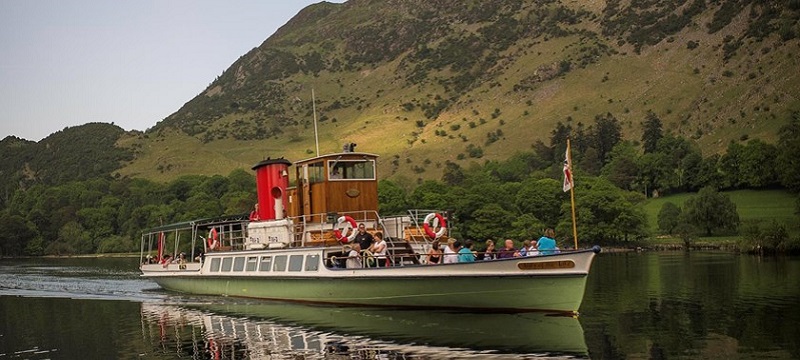 Getting onto the water is another great way to enjoy the Lake District! Ullswater Steamers have been sailing since 1859 and they recommend the Lady Wakefield for disabled travellers saying: "the main lounge is accessible directly from the boarding ramp and has a fully accessible disabled toilet. There is space for wheelchairs outside on deck."
In Windermere, Windermere Lake Cruises are the ideal way to experience England's largest lake. One passenger wrote: "About half their cruises are in wheelchair accessible steamers, and there is space to sit either inside or outside."
With so many lakes, the seaside might not be the first thing you think of when planning a trip to Cumbria, but Maryport is a coastal town worth visiting! One powerchair user visited the Maryport Promenade and described it as: "An old fashioned seaside venue which is just a great place to visit, particularly if you love walking, the seashore, and nature. It's a wide level promenade which provides extended views of the seashore."
Read more reviews of outdoor spaces in Cumbria.
The railways of Cumbria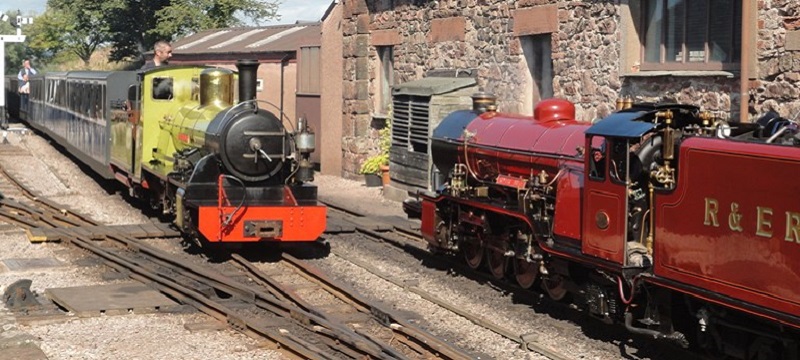 Photo: Ravenglass and Eskdale Railway
There are various scenic rail routes and steam rail trips through Cumbria, and several have been made accessible. One passenger on the Ravenglass and Eskdale Railway said: "Fabulous experience on this famous train. Access to trains so easy, staff very accommodating. A great steam train ride in special wheelchair accessible carriages."
Leaving from Alston, the South Tynedale Railway is 'England's highest narrow gauge railway' and is listed on Euan's Guide saying: "We try to run an accessible coach on all of our services which includes a ramp and space for two wheelchairs. We recommend that people call in advance to check that the coach is running and that it hasn't been withdrawn at short notice due to mechanical problems."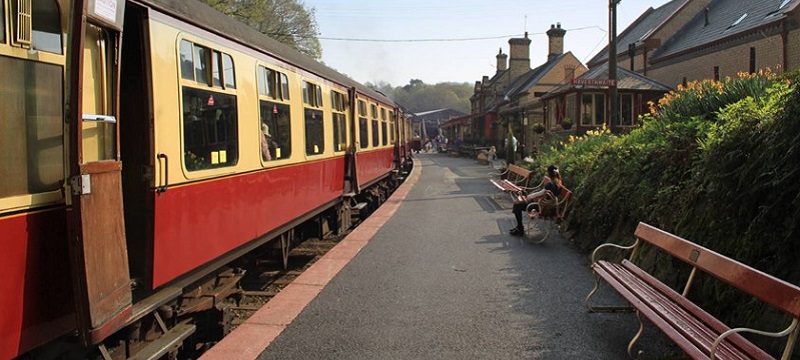 Photo: The platform at Haverthwaite Station.
If you find yourself in Ulverston, the Lakeside and Haverthwaite Railway leaves from Haverthwaite Station and travels to the southern tip of Lake Windermere. It's listed on Euan's Guide saying: "To board the train we have a brand new lift suitable for wheelchairs and mobility vehicles."
Recommended attractions with disabled access
Visit the home of William Wordsworth, romantic poet and one of the Lake Poets who lived in the Lake District in the 1800s. Dove Cottage and The Wordsworth Museum in Grasmere is listed on Euan's Guide saying:
"Dove Cottage is a 17th Century cottage, so although access to the ground floor is possible for pretty much everyone, the first floor is not accessible. The rest of the site is accessible to all with lifts and ramps available. A 'virtual tour' of Doe Cottage is available for those who were unable to get access to the first floor."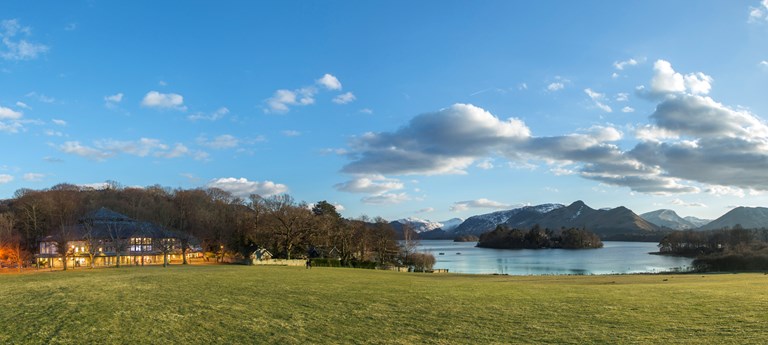 Photo: Theatre by the Lake.
Visitors to Barrow-in-Furness may enjoy a show at The Forum Theatre, reviewed on Euan's Guide: "A wheelchair accessible café, bar and theatre. The disabled access is very good with ramps to the front of the building and lifts inside." Another theatre worth checking out in Cumbria is Theatre by the Lake in Keswick where wheelchair access has been described as good. In Kendal, the Brewery Arts Centre is the place to be for arts and entertainment. The venue is listed on Euan's Guide as having automatic doors and accessible toilets.
If you're in Carlisle, Tullie House Museum & Art Gallery Trust comes highly recommended as "an excellent afternoon out", with "dedicated disabled access with automatic doors, and lifts to lower and upper floors." For more fun history, the topiary gardens at Levens Hall and Gardens in Kendal are worth visiting, as is the "level access" Bellingham Buttery tea room and Potting Shed shop.
In Lindal-in-Furness, South Lakes Safari Zoo is home to over 1,000 endangered animals and has been reviewed on Euan's Guide: "The South Lakes Safari Zoo is personally the best zoo that I have visited. The safari zoo is accessible for wheelchair users allowing interaction with the animals, as the walkways have been designed to make everything accessible for everyone."
Eating and drinking in Cumbria
If you're enjoying the city sights of Carlisle, you'll find classic British food with a twist at The Old Bank City Pub and Chop House on Fisher Street. One wheelchair user told us: "There is wheelchair access via a separate door which takes you to a slightly higher level.", and they recommended booking in advance if you require a table that can be reached by the accessible entrance.
When exploring Keswick, one restaurant has been attracting attention with its great food and good disabled access. Morrel's of Keswick has been reviewed on Euan's Guide, and one guest wrote: "Spacious place to have the wheelchair in – not a cramped place to eat with good space between each table. Go and have a meal, just delicious."
For unbeatable views as you eat, The Bluebird Café by the Lake in Coniston boasts "outstanding views from all the seating." One visitor said they "loved the automatic doors" and they did indeed appreciate the views. If you enjoy this, they have recently opened a new café in Bowness (see Windermere) that is yet to be reviewed on Euan's Guide!
Visitors to Penrith shouldn't miss Four & Twenty who serve up tasty food on King Street! One wheelchair user wrote about the restaurant on Euan's Guide and said: "As we had booked in advance, a wheelchair ramp was in place for easy access. Favourite place to eat in Penrith."
How to travel between towns and villages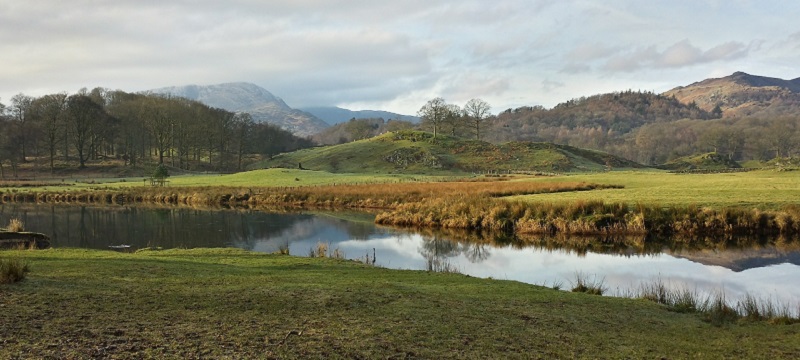 Bus and train are good ways to travel around The Lakes if you don't have your own car. Stagecoach provides transport across Cumbria and North Lancashire, and one passenger found the journey to be enjoyable: "All buses have a fold down ramp which is put in place by the driver. The drivers are very helpful."
Read disabled access reviews for train stations and other transport options.
Add to this guide!
We're looking for reviews of places in Cumbria. Can you rate places out of five for their disabled access? Get started >>
We would especially like reviews of:
• Stott Park Bobbin Mill
• Muncaster Castle
• Hawkshead Brewery
• Cartmel Racecourse
• Accommodation and restaurants
Last Updated – January 2018
See more of Cumbria