Falkirk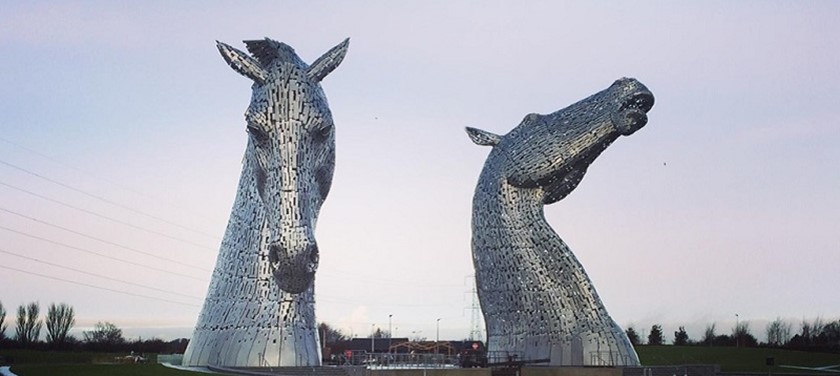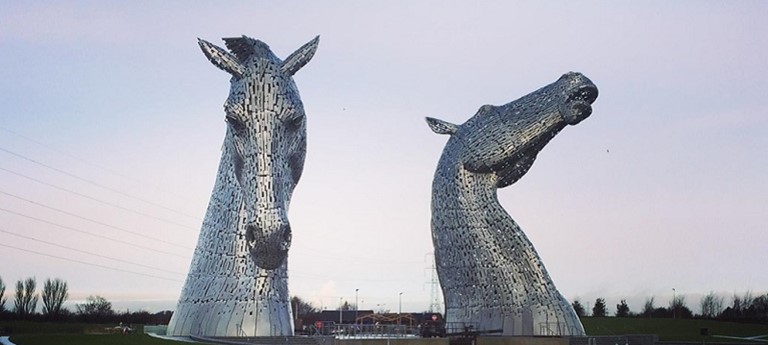 A vast town on the River Carron, Falkirk is a central belt urban area identifiable by its iconic steeple, industrial relics and modern feats of engineering. The town centre shows signs of decline, but there is a growing number of accessible music and nightlife venues being renovated by locals who are dedicated to reviving the city's fading social scene. Away from the High Street, Falkirk is a thriving tourist destination with beautiful green spaces and marvellous sites with disabled access, including the Falkirk Wheel, Kelpies, Pineapple House and the impressive 14th century Callendar House at the Antonine Wall.
Getting to Falkirk
Most locals travel to and from the town by car or train. There are regular trains running between Falkirk and Edinburgh, Glasgow and Stirling and the town has two busy stations to choose from. Falkirk Grahamston is right in the town centre and close to both the High Street and the large retail park. Be aware that access between the two platforms if you're a wheelchair user involves an inconvenient detour. If you do need to cross from platform one to two, it's best to allow a little extra time for this. Alternatively, a little further from the town centre is the charming Falkirk High station. This sits on the direct line between Glasgow and Edinburgh making it the fastest route from Falkirk to either of the cities. It's good if you want to get to and from Falkirk quickly, but you may need to get a taxi into town as it is a steep downhill walk.
Wheelchair-accessible eating and drinking spots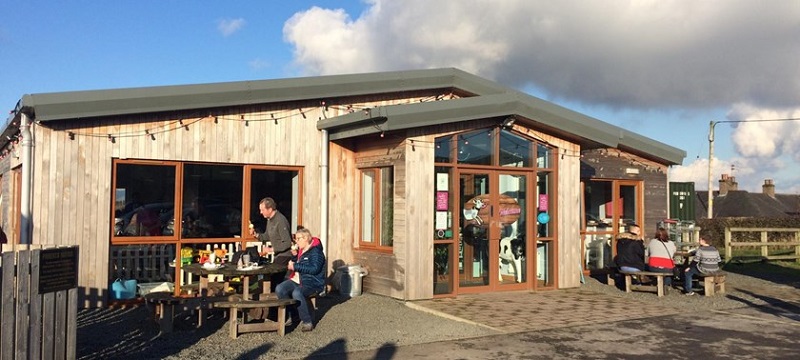 Photo: The Milk Barn ice-cream parlour.

If you have a car or are happy to take a taxi, Canada Wood Kitchen and Bar can be found just outside one of Falkirk's elevated neighbourhoods. It has stunning views across the Ochil Hills, and is a good place for homely food and big cakes! One visitor wrote, 'the restaurant is a modern, high-ceilinged building with smooth stone floors. The first thing you see as you enter is the mouth-watering cake selection!'
If you happen to be visiting Callendar House, its tearoom is known for its wonderful afternoon teas! You'll need to book first if you want to be guaranteed a table, and access is by a smaller lift in this old building so it may be a good idea to check dimensions if you are concerned about accessing this part of Callendar House.
In the town centre, Johnston's Bar Bistro is a popular choice with locals. One visitor wrote, 'The accessible loo is on the main restaurant floor at the back of the restaurant and is clearly sign posted and accessible.' Watch out for the accessible entrance door, it can be a little heavy and innocuous, but staff 'are quick to help' if required.
For those who are spending the day in The Helix, it's an ideal picnic spot! You can also get tasty ice-creams and snacks at The Horsebox Café and Gift Shop and enjoy lunch beside the giant water horses. A reviewer wrote: "There is a dropped counter inside at the till. Outside there are various low picnic benches."
Further along the canal is Boardwalk, a contemporary restaurant with an impressive view of the Falkirk Wheel. One visitor describes it as 'a light, airy restaurant with plenty of space for me as a wheelchair user to get around.' 
If you're after some ice-cream, a trip to The Milk Barn is a must! The cows roam around just outside the parlour, and the access is flat throughout. 
Exploring Falkirk's accessible canals
Photo: The Kelpies.
Much of Falkirk's must-see attractions can be found along the canals. Perhaps the most famous is the Falkirk Wheel, a boat lift constructed to connect the Forth and Clyde Canal with the Union Canal. The landmark lifts boats 24 metres up to the Union Canal and replaces 11 locks which in the past took almost a day to pass through. One visitor reviewed the Falkirk Wheel on Euan's Guide and said:
'The visitor centre which you go into to buy tickets is all very wheelchair friendly. Then we went onto the actual Wheel which is also very accessible for all types of wheelchair. The staff are very friendly and helpful and have a ramp to get onto the boat. The trip was very enjoyable and educational with fantastic far-reaching views.'
If you're keen to get on a boat and travel along the canals, Seagull Trust Cruises Limited is a charity which provides 'fab canal trips' for disabled people across Scotland. They operate in Falkirk, and on passenger said, 'the barges are fully equipped with accessible ramps and I have had many enjoyable cruises on their boats in the Falkirk area.'
On lower ground, The Helix is a large 'perfectly flat' park with a pond, eating spaces, walks, birdlife, and the famous Kelpies. 'The access into and around this park is great, as all the paths are smooth and surfaced and are wide enough to let a truck through. I loved the wetland area with winding boardwalk.'
Take a moment to admire The Kelpies if you're visiting The Helix; these giant water horses are the world's largest equine structures. One visitor wrote, 'The Kelpies made for a great visit albeit a bit chilly as they're exposed to the elements sitting alongside the canal. Getting up close and around was easy with good surfaces to wheel on.'
Top tip! There are accessible parking spaces close to the visitor centre – just make your way to the barrier at the access road. These spaces are closer to The Kelpies than the more obvious accessible parking in the main car park.
While you're at this side of town, you'll spot the Falkirk Stadium which is infamous for its bitterly cold matches! One football fan said it is 'very easy to find', with 'plenty of parking' and 'very good level access into the stadium', and added: 'it is one of the better grounds that is worth a visit!'
Historic sites with disabled access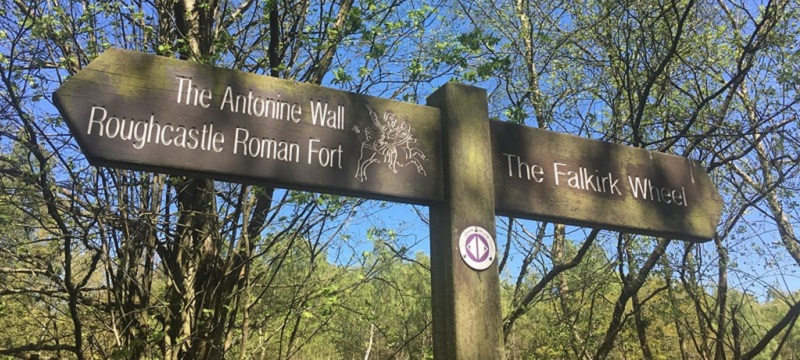 Photo: Rough Castle Fort.
While Falkirk has a long industrial past and history with the waterways, it also has older stories dating back to the 14th century and beyond. Explore quiet woodland and witness fragments of the Antonine Wall to get a feel for the Falkirk of long ago. Rough Castle Fort is a good starting point to see a bit of Roman history, and one reviewer said, 'I like the wide barrier entrance that would be wide enough for most wheelchairs if not all. The paths are very wide and I don't remember any steps. The fort is lumpy and hilly, but you will be fine if you stick to the paths.'
Callendar House dates back to the 14th century and offers a great multi-sensory experience with Georgian food sampling, storytelling and interactive exhibits. The House is listed on Euan's Guide saying that it will be adding new signage and an audio buzzer to make access easier for visitors.
Have you been to Falkirk?
If you know somewhere with great access in Falkirk, write a review on Euan's Guide and let others know! We're particularly keen to hear your accessibility experiences in the following places: 
• Coffee shops
• Restaurants
• Tourist attractions
• Hotels and self-catered accommodation
Last updated - February 2019