Where to stay in London
When it comes to accessible hotels in London, most Euan's Guide reviewers have chosen large, well known hotel chains. Premier Inn, Travelodge and Holiday Inn are amongst the most popular. These hotels tend to be medium priced and offer a range of facilities including step free access, ramps, lifts to all floors, restaurant and accessible rooms, either with a bath or wet rooms. However, when you're looking to book a hotel room it's also worth considering location, so to help you we've identified some accessible hotels close to some of the most popular tourist areas.
Westminster
Westminster is where Parliament meet and where the Queen resides, and its attractions are on the top of many must see lists for first time visitors to London. Basing yourself in this area will mean that many of the major tourist attractions can be within walking distance of your hotel. This is a nice location with good public transport access.
Hub by Premier Inn London Westminster whose accessible bathroom was described by on one wheelchair user guest as "very large with adequate rails, fixed wall-mounted shower seat and wet room format". This hotel is in a side street, in a good central location, with many of London's most iconic attractions within walking distance, including Westminster Abbey, the Houses of Parliament, The Cenotaph, 10 Downing Street, Horse Guards Parade and at the other end of Whitehall is Trafalgar Square. In the opposite direction is St James's Park, with it's famous pelicans, who get fed between 2.30pm and 3pm daily next to Duck Island Cottage. On the opposite side of the park is The Mall, Buckingham Palace and a little further on the Royal Mews. There is a very small weekday market nearby the hotel, in Strutton Ground which is popular with locals and visitors alike. Walking along Victoria Street, towards Victoria, you will pass Westminster Cathedral and Cardinal Place with a good selection of shops and restaurants. The hotel has excellent transport links, round the corner is St James's Park Tube Station, which is only accessible by stairs. However, nearby are Westminster and Victoria Tube and Railway Station, all of which have step free access. It is also close to Victoria Street where there are several bus routes. 
DoubleTree by Hilton Hotel London Westminster was scored highly by one powerchair user guest who said that "the staff couldn't be more helpful and friendly if they tried". It's on a quiet, side street, on the fringes of a residential area in Pimlico, where there are a few restaurants and pubs nearby. The hotel is just a couple of minutes' walk away from the Tate Britain, one of London's most popular art galleries. It's also very close to the River Thames, where there is a level walk along to the Houses of Parliament and Westminster Abbey, or cross over Lambeth Bridge to visit the Garden Museum and see Lambeth Palace, the official London residence of the Archbishop of Canterbury. The nearest step free tube stations are Westminster or Victoria. Buses stop close by and it's a short bus journey to Victoria or along Whitehall to Trafalgar Square.
Waterloo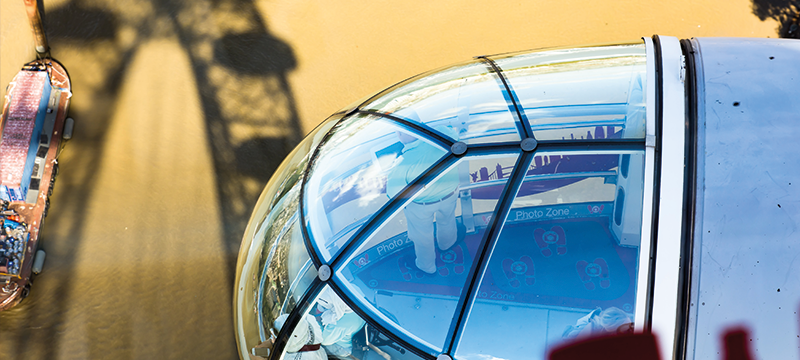 Waterloo is a very popular area for Euan's Guide reviewers to stay during their visit to London. The area includes the Southbank, London's water front, entertainment complex where you can visit London Eye or SEA LIFE London Aquarium, see Agatha Christie's "Witness for the Prosecution" performed in the magnificent setting of the former Council Chamber of County Hall, depart on a City Cruise or a London Eye River Cruise, watch contemporary and classic films at the BFI (British Film Institute) or on the largest cinema screen in Britain at the BFI IMAX or attend one of the daily events hosted at the Southbank Centre, which also has a Changing Places toilet. There is also a good selection of restaurants and a wide, level, pedestrianised walkway with fabulous views, along the river side. Away from the river is The Old Vic, The Young Vic and The Vaults, offering traditional and alternative theatre. Close by are The Cut and Lower Marsh, with both streets offering a choice of restaurants and pubs. Walk over nearby Westminster Bridge to the Houses of Parliament and Westminster Abbey. There's lots to see in the area itself plus it has excellent public transport links. There is Waterloo Train and Tube Stations, with the first offering step free and the later only partial step free access, plus there are several buses routes in the area to take you over River Thames into the West End.
Premier Inn Waterloo was given a high score by several reviewers, one powerchair user guest who particularly liked the "Good, central location, close to an accessible underground station and buses."
Premier Inn County Hall which is in County Hall itself, one guest found the "Hotel in the centre of everything…  [and] Staff are incredibly friendly and helpful."
These two Premier Inns are almost opposite each other and by the Southbank, and close to the train station. 
Travelodge London Central Waterloo was described by one powerchair user guest as "Biggest Accessible Rooms Ever Stayed In!" The hotel is located on a main road with several bus routes, close to The Old Vic and a few minutes' walk from the Southbank. 
King's Cross
King's Cross is another popular area for Euan's Guide reviewers to stay when they visit the capital. It's a major transport hub with, King's Cross Railway Station, which has trains on the East Coast heading north to Scotland, and where you will find Platform 9 ¾ and the Harry Potter shop, and next door is St Pancras International, which looks like a medieval castle and with shops, restaurant and luxury hotel is a destination in itself as well as train departures to Kent, the Midlands and Eurostar. Within walking distance is Euston Station with trains to the Midlands, North West England and Scotland. In recent years the area has been redeveloped and has lots to offer. The British Library hosts exhibitions and events as well as its research facilities. Behind it is The Crick Institute and nearby is the Wellcome Collection, both have medical themed galleries. Behind King's Cross Station is the Regent's Canal and Granary Square, with a selection of restaurants and bars and entertainment venues, including Regent's Place and the Canal Museum.
Premier Inn King's Cross faces onto the side of King's Cross Station. One powerchair user guest said "The hotel has level access entrance with wide automatic doors. The accessible rooms were very spacious."
Hub by Premier Inn London King's Cross was described by one guest as having "a very Japanese feel to. It is very modern, sleek and stylish. Complete with a full wet room." It's handily located a few minutes' walk from King's Cross Station.
Premier Inn London St Pancras Hotel was found to be "Spacious, accessible accommodation" by a wheelchair user guest.  This branch is located directly opposite the British Library, it is walking distance to St Pancras International, King's Cross and Euston Railway Stations. 
Covent Garden & Holborn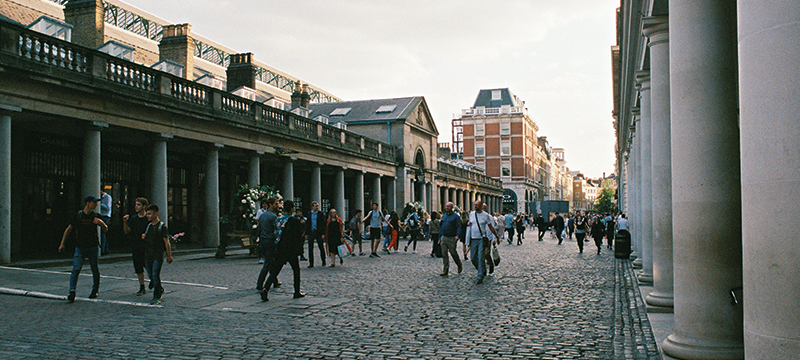 Covent Garden is one of London's most loved tourist attractions for visitors and locals alike. At its heart is the Piazza, a square with small shops, cafes and indoor markets. There's also free daily street entertainment. Head over to St Paul's Church Covent Garden, on the west side of the Piazza if you want so fun, variety or circus type entertainment and inside the central market block for classical musicians. Regarding access the Piazza is pedestrianised and has cobblestones. The indoor markets are step free but not all the shops and cafes are, however some have outside, under covered seating.  In the main square is also where you will find the London Transport Museum.  In the surrounding side streets are lots of shops, pubs and restaurants. Covent Garden is also part of London's West End Theatre District, with a lot of theatres in close proximity. Within a 5 – 10 minutes' walk, nearby are lots of tourist attractions, Somerset House, the Courtauld Gallery, Trafalgar Square with Nelson's Column, the National Gallery, National Portrait Gallery, St Martin's in the Fields with its Café in the Crypt. Nearby Covent Garden, Holborn, Leicester Square and Charing Cross Tube Stations are not step free. However, Charing Cross Railway Station is nearby and so are several bus routes along Strand, Charing Cross Road and Kingsway, which will take you directly to the main tourist areas in central London. 
Travelodge Covent Garden was described by one wheelchair user guest as "To stay right in the centre of things at a reasonable price and get wheelchair access is no mean feat, but travel lodge ticked these boxes."
Holborn also known as "Midtown", is a central location and adjacent to Covent Garden and Bloomsbury. In the area are lots of restaurants and pubs, as well as the Museum of Comedy. It's a short walk to Bloomsbury, where you will find the British Museum, as well as fascinating, smaller museums such, as the Cartoon Museum, the Foundling Museum and Charles Dickens Museum. There are also beautiful Georgian Garden Squares, where many of their central gardens such as Russell Square, are open to the public. Holborn is also close to London's theatre district. Nearby Tottenham Court Tube Station is now step free, although Holborn Tube Station isn't. There are lots of bus routes in the vicinity, making it easy to travel to many tourist areas and the shops in Oxford Street.
Premier Inn Holborn is described as having "wide lifts throughout," and, according to one guest, 'very good' accessible loos.
Hotels with Hoists
If you're looking for a hotel with ceiling hoist, Euan's Guide reviewers have recommended these hotels. The hotels also have easy access by public transport to some of London's most popular tourist attractions.
Premier Inn London Archway one powerchair user commented that "There are 16 accessible rooms of which 9 have ceiling hoists. This is by far the highest ceiling hoist provision of any hotel in the UK (as far as I'm aware). The hoist was great and it really improved the quality of our stay." Archway is in North London, is a residential suburb with local restaurants, pubs and shops, as well as good public transport links to central London. The hotel is round the corner from Archway Tube Station, which doesn't have step free access, however there are several buses that stop nearby, which can take you into the West End or more locally to Highgate Village, Hampstead Heath with Kenwood House, Arsenal's Emirates Stadium and Camden Town. 
Holiday Inn Regent's Park has "one room available with ceiling hoist although more accessible rooms available" said one guest. The hotel is in a central location about a five minute walk to Regent's Park, one of London's 8 Royal Parks, which is also home to Regent's Park Open Air Theatre and London Zoo, however the zoo is at the far end of the park. Close by is Madame Tussauds, the Royal College of Physicians, New Diorama Theatre and Oxford Street. Great Portland Street Tube Station is very close by, but is not step free. There are several bus routes that serve the area which will take you to many of the main attractions.
Holiday Inn Kensington Forum also has a room with a ceiling hoist. One reviewer commented that "We stayed in the room with ceiling hoist as my brother needs use of one. Its very hard to find a hotel with one so we were delighted to find this place". The hotel is in central London, with good public transport links and there are buses that stop close by and will take you into central London. Earl's Court Tube Station, which is step free, is about a 10-minute walk away, and from there you can get the tube directly to central London, Kew Gardens, the National Archives, Wimbledon or Richmond, with its shops, Richmond Theatre and beautiful riverside. Gloucester Road Tube Station is the nearest tube to the hotel being only a couple of minutes' walk, but it is not step free. However, surrounding the station in Gloucester Road, is a selection of coffee shops, restaurants and pubs. As well as a couple of small supermarkets. It's a great location if you are wanting to visit South Kensington's Museums, it's only a 10 - 12 minute walk or a 5 minute bus ride to the Natural History Museum, Science Museum and Victoria and Albert Museum, or a slightly longer bus journey will take you to Harrods. A different bus will also take you to Kensington Palace and the shops in Kensington High Street. 
More accessible guides to London
We hope you have found our guide to London's accessible accommodation options useful. For more information on places to visit and how to travel to and around London please follow the links below.
Have you stayed in London?
Tell us what you thought of your accommodation by leaving a disabled access review on Euan's Guide.
Last updated – November 2021 by Tina, London Ambassador for Euan's Guide.